LEARN THE LANGUAGE AT THE SPEED OF LIGHT!
Jerusalem: 972-2-561-1132 Tel Aviv: 972-3-566-14-93 USA: 1-516-252-4914
Ulpan-Or in a Nutshell
Click on the eBook icon below to open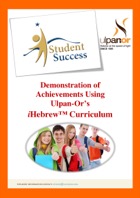 Read Hebrew and Speak Hebrew: Hebrew-Study in Schools
Ulpan-Or Study Materials – Demo Samples
Text eBooks – Novice Level (Low – High)

Alphabet

My First Hebrew Experience

Kita Alef
Text eBooks: Intermediate Low to Advanced Low Levels

Children's Dialogues

Authentic Dialogues

Situations That's Life

Advanced Stories
Grammar eBooks: Novice Mid to Advanced Low Levels

Verbs Infinitives

Verbs Present Tense

Verbs Past Tense

Verbs Future Tense
Ulpan-Or offers a variety of Hebrew-study programs designed for elementary schools, middle schools, high schools, universities, and summer camps, whose students want to read Hebrew and speak Hebrew. Studies are conducted in accordance with Ulpan-Or's unique Rapid Language Acquisition (RLA) method, developed by Orly and Yoel Ganor after over 20 years of research. This method is based on language acquisition rather than on language learning, and enables students to acquire Hebrew at a faster pace than other programs. Ulpan-Or's system succeeds in providing language facility where other teaching methods fail.
Studies are based on Ulpan-Or interactive study kits or e-Books, selected for the specific class level. Materials include:
-Relevant up-to-date dialogues designed to develop comprehension and speaking skills.
-Grammar and verbs to build correct language structure.
-Stories and literature to provide access to Israeli literature and culture.
-Situations to enrich vocabulary dealing with thoughts and feelings.
-Media items to assist in developing ability to access Israeli written and broadcast media and understand current events and Israeli life.
-Popular Israeli songs to study new vocabulary and get acquainted with Israeli culture in a fun and entertaining way.Each student receives his own study kit or e-Book, consisting of text and audio materials.Ulpan-Or materials can easily be accessed on any tablet, iPad, PC or Smart Board, allowing technology to enhance the learning experience. Study materials are augmented by Ulpan-Or's interactive online weekly newspaper. For our weekly interactive online newspaper The E-Tone(R), published in three different Hebrew levels please click here E-Tone®. Students are encouraged to use the materials after classes with their families to support family and lifelong learning and adult education.Our programs are already used by several schools, such as: